The Ultimate High Performance Compact Watercraft​
Price, safety and versatility.
The complete package.
The entire range of Zego Boats have been designed and developed in New Zealand over many years, leveraging the very strong innovation and design practices that New Zealand boats are famous for. All boat components are manufactured at the Zego factory in Waipu, New Zealand. U.S. Domestic Service and Build Centers are located in Seattle WA and Sacramento CA. ZegoUSA's primary sales and distribution regions include CA, OR, WA, Vancouver B.C. and the Hawaiian Islands. Call 1-855-ZEGOUSA (934-6872) today for complete info – including pricing, inventory, and current promotions.
There has been a deliberate design focus to produce a small range of boats that can easily be launched, retrieved and enjoyed by one person.
Each design offers incredible stability and sea keeping abilities, resulting in the most comfortable ride in its respective class.
Another unique feature across the entire range is the ability to completely colour style your boat to your own preferences. Click here to download the available colours.
Because price, safety, versatility and ease of operation is important with any small leisure boat, you need to check out the Zego Sports Boat range. For recreation, fun or work, on any type of water, you can use a Zego!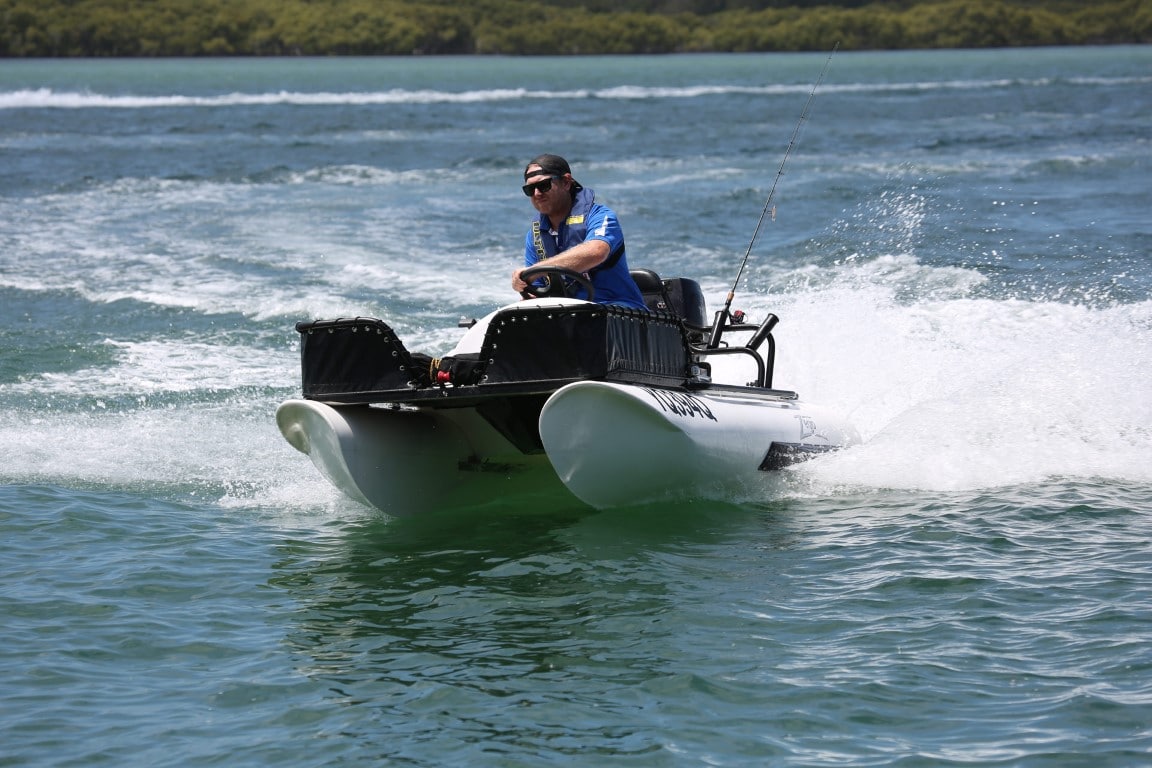 The Zego Sportsboats Range
Features of the Zego Sportsboats
By design, the Zego Sports Boats are brilliant in a wide variety of applications. Incredible stability and shallow draft make them ideal multi-purpose platforms. The Zegos are great for fishing, hunting, exploring, diving and of course great family fun.
With a low center of gravity coupled with twin hulled (catamaran) designs, all Zego Sports Boats provide complete confidence whether sitting or standing. 
Even with fitted outboards, all Zego Sports Boats are very easily launched and recovered by one adult. Even small cars can tow the boat and maneuvering the boat & trailer by hand is effortless.
Each boat in the Zego Sports Boat range is manufactured from tough industrial polyethylene, that is resistant to salt, weather, UV, punctures and de-lamination. Casual contact with rocks, docks and pilings is not an issue.
Even though quite different, each of the boats have been designed to be both practical and loads of fun. Whether you're zipping across calm water, or pushing your way through the breakers, stability and ease of control provides a fun and stress free boating experience.
Zego Sports Boats are manufactured to such high standards that we provide a limited 3 year warranty for personal use. Please click here to read the full warranty.